The Nourish collection features a range of bowls and dip pots decorated in artisan style glazes. A comprehensive range, Nourish is the perfect accompaniment to dishes from all around the world.
Read more
The best ally to serve drinks, giving a classic, elegant and sophisticated design to your buffet.
Read more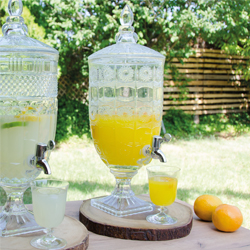 kitchen knives.
Professional kitchen knives.
Read more
Working to offer the best products while being respectful with the environment.
Read more
A delicate design and excellent quality.
Whether at tea time or at the dining table, the contemporary lightness and meticulously executed statism of this collection sets the stage for a high-class tasting experience.
Read more
Horeca Professional Expo
One more year Casa Delfin will be present at the HIP Fair in Madrid.
Read more
Intuitive system, contemporary aesthetics.
A versatile range of tables that offer excellent functionality, ergonomics and flexibility.
Read more
The contemporary and subtle design that is inspired by the shapes and textures found on the coast of the sea.
The distinctive and elegant relief of Isla emulates the natural beauty and the patterns of the coast. A subtle and elegant design that does not compromise its durability and performance.
Read more